TU Wien 260.518 -
International Summer School
Dealu Frumos/Schoenberg
(Design Studio - Kleines Entwerfen)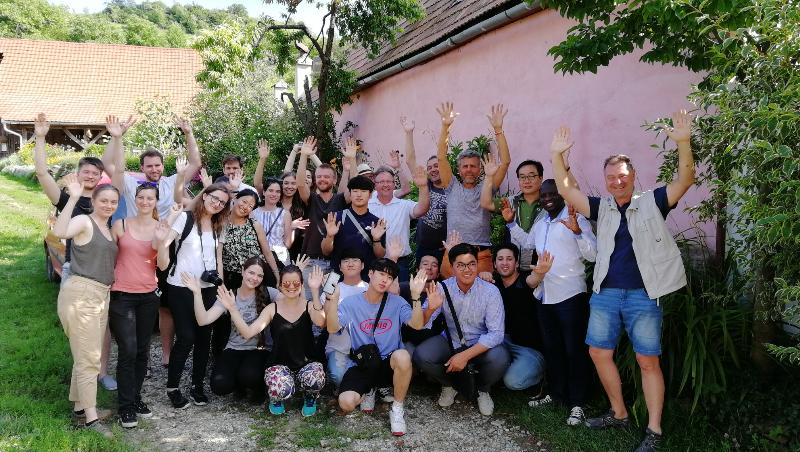 During July 2018, the International Summer School in Dealu Frumos in Transsylvania was held. It gathered 25 students with eight nationalities originating from the University of Architecture and Urbanism Ion Mincu in Bucharest, the host, Technische Universität Wien and the Korean Gyeongsang National University in Jinju. In total 12 teachers and supervisors from Romania, Austria, Germany, Japan and Korea were present and supported the students in their search for contemporary uses for selected lands, villages and houses of the region that became marginalized and widely neglected after the retreat of German settlers taking place during the final quarter of the last century.
Inputs Ressource Persons Dealu Frumos Design Studio 2018 (Kleines Entwerfen 5 ETCS)
Lectures given by international professors and scholars with the aim to stimulate students to formulate their ideas are provided above. And benath, we depict the highlights from our study tour in Sibiu, Museum Astra, Dealu Frumos, Sigisoara, and many other inspiring places.
Photos Study Tour to the International Summer School Dealu Frumos July 9th to July 14th, 2018
Presentation at Danube Region Participation Day, Sofia, October 17th, 2018
We would like to thank all colleagues that supported us during this course and appreciate the co-operation with the working groups of the Danube Region Strategy.
Last Update: April 29 th, 2019