TU Wien 260.518 -
International Summer School
Dealu Frumos/Schoenberg
(Design Studio - Kleines Entwerfen)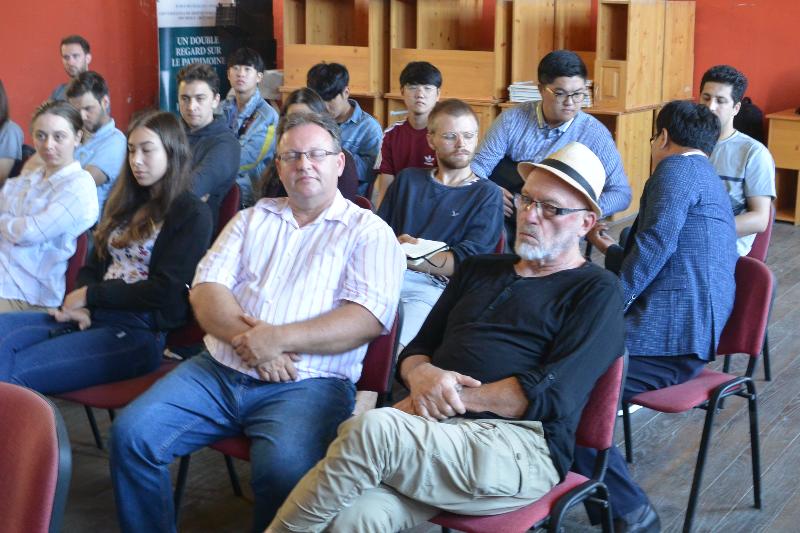 During July 2018, the International Summer School in Dealu Frumos in Transsylvania was held. It gathered 25 students from eight countries originating from the University of Architecture and Urbanism Ion Mincu in Bucharest, the host, Technische Universität Wien and the Korean Gyeongsang National University in Jinju. In total 12 teachers and supervisors from Romania, Austria, Germany, Japan and Korea were present and supported the students in their search for contemporary uses for selected lands, villages and houses of the region that became marginalized and widely neglected after the retreat of German settlers taking place during the final quarter of the last century.
For more than700 years the Germans were the dominant ethnic group in Transylvania or Siebenbürgen, primarily protestants, and responsible for building most of the approximately 250 fortified churches as defense line against aggressors from outside. While the objects in their totality are a unique cultural heritage of sacral buildings worthwhile to be protected as an ensemble the reality of the region and country does not allow such an approach. The region is poor and did not recover from the loss of people and income. Means provided by international and national sources are scarce and only allow a priority setting to protect the best preserved objects. One out of 35 or the seven most famous fortified churches became a UNESCO World Heritage Site and consequently get the most attention and visits. Some 100 objects require renovation and were given to institutions or cultural associations who try to reestablish a meaningful use. The remaining majority of objects are ruins or under current conditions not useable buildings.
Since 2004 the University of Architecture and Urbanism Ion Mincu Bucharest revitalizes one of the objects, the fortified church in Dealu Frumos/Schönberg as the seat of the Center of Varnicular Architecture and the place for numerous national and international summer schools. The use of the fortified church in Dealu Frumos is restricted to the warm season as it would be too expensive to heat the object during winters. But at least during this season citizens and visitors can feel new live in the old village. And even more important is that continuously new ideas are coming up on how to improve the state of single objects, ensembles of built environment, or the magnificent cultural landscapes in the surroundings of Dealu Frumos. In this spirit 15 architect students from TU Wien tried to contribute. They came up with their ideas on how to intensify the underused structures and to regain economic incentives for the further development of the region. Ideas of new uses comprised the fields of tourism, agriculture, manufacturing and improving the local and regional infrastructure.
In priniple, Transylvania could become an outstanding European tourism destination but the tourist infrastructure and transport services are not highly developed. Tourism in various forms, as architectural or cultural heritage tourism, religious tourism, history tourism, ethnic minority tourism, event tourism, cycling tourism, farm tourism, connecting the centres, was selected as the most appropriate economic activity to revitalize the region and several ideas were born in this context.
Agriculture appealed in two ways, in form of a traditional agriculture that contributed to the unique cultural landscape and that partly survived in the region and by entirely new smart farming concepts aiming to digitize and rationalize farming. Traditional agricultural practices are maintained by many shepherds moving around with their flocks or small scale peasants practicing circular resource economy and subsistence agriculture with few animals on limited areas of land. Ideas of smart farming were primarily influenced by Korean students from Jinju who were supported by the Smart Farm Centre in Jinju.
Inputs Ressource Persons Dealu Frumos Design Studio 2018 (Kleines Entwerfen 5 ETCS)
Lectures given by international professors and scholars with the aim to stimulate students to formulate their ideas are provided above. And benath, we depict the highlights from our study tour in Sibiu, Museum Astra, Dealu Frumos, Sigisoara, and many other wonderful places.
Pictures from the excursion to Dealu Frumos July 9th to July 14th, 2018
Presentation at Danube Region Participation Day, Sofia, October 17th, 2018
We would like to thank all colleagues that supported us during this course and appreciate the co-operation with the working groups of the Danube Region Strategy.
Last Update: March 18th, 2019